Filed under Updates, News. Posted Jan 11, 2015.
Yes, we'd love another helping, especially after the way we were left hanging at the end of season 1. While we wait on TNT to air the Legends second season we have plenty of Beanie projects to look forward to. Sean has been a busy boy, a very busy boy, indeed!
Coming up quickly on February 6th is the much-anticipated Jupiter Ascending, the ginormous Hollywood production from the team that brought us The Matrix trilogy. Touted as the first in a planned trilogy, we can only hope that it proves to be as huge of a cult classic as The Matrix turned out to be.
Sean is part of an all-star cast, including Mila Kunis, Channing Tatum and Eddie Redmayne, in the sci-fi adventure. The movie tells the story of a future society which sees human woman Jupiter (Mila) targeted for assassination by the Queen of the Universe. This sets her on course for her destiny to finish the queen's reign. Oddly, this time around, the big baddie will not be Sean, but, rather his Black Death co-star, Eddie Redmayne, who will be doing all the dastardly deeds.
"At the end we're in these space machines. These space-rocket fighter things, like little carts. Me and Channing are just sitting in these buckets with two grip handle things, pretending. Lots of, 'Turn left!' and, 'I got your back!' I saw the finished thing, and I was like, 'F**king hell, they made us look unbelievable,'" Sean enthused to Empire magazine
The film is chock full of hot young acting talent, headed up by Mila Kunis and Channing Tatum, but never fear, Sean's Stinger Apini character will keep them all in line and probably blow them right off the screen. Be sure to head on over to Red Carpet and get yourself entered in the drawing for a free pass to see an advance screening in Los Angeles. Going by what has turned up so far, expect the Wachowskis to pull out all the stops in the marketing push in the run up to the big release date. The official film website has gone live and the Stinger Apini page is a rather pleasant place to while away some free time. Be sure to check out the film's Facebook page as well. The soundtrack is already available from Amazon and action figures are hitting the streets along with a companion video game. Our intrepid SBO Press Archives editor, Bluejay, has already started collecting up all the print articles and interviews about the film and there's sure to be a steady flow of them until the big day.
Suddenly dropping a couple of other projects, just prior to the start of filming, Sean signed on at the last minute to Ridley Scott's The Martian. Expected to be Thanksgiving 2015's blockbuster offering, The Martian's basic premise is pretty much Robinson Crusoe goes to Mars with the added drama of what happens back on Earth with the effort to rescue Matt Damon's lead character. Sean plays a flight director working for the NASA head honcho played by Jeff Daniels. This film should get plenty of media attention in the run up to the November 25th premiere as it features small roles for many of Hollywood's favorite actors. But, given that principal filming just wrapped on January 2nd, it will be a little while before we start getting any first look material.
Another project kept on the down low that Sean jumped on board with is Christ the Lord: Out of Egypt, due for an Easter Eve, March 23rd, 2016, release. Christ the Lord: Out of Egypt, which will be an epic adaptation of the Anne Rice novel of the same name, which she - the famous author of the Interview with a Vampire series - wrote after her conversion to Christianity. The movie will follow Rice's brilliant story that used exhaustive historical research to imagine what Christ's early years might have been like in Nazareth, following young Jesus as he comes to discover his real identity and the truth surrounding his birth. The most we know about the film is that it shot in Matera, Italy and at Rome's Cinecita Studios and, based on photos taken on set, Sean's role appears to be some sort of Roman soldier. He spent roughly 3 weeks on location in November. Chris Columbus is producing the movie. Funny how Sean keeps popping up in his movies for small parts.
Speaking of Chris Columbus, one of those small parts is in the Chris Columbus-produced, Adam Sandler-directed Pixels. The comedy stars Adam Sandler and revolves around a group of 80's arcade game champions who are called upon to help defend Earth from alien invaders who have misinterpreted our classic arcade games as a declaration of war. Sean will be in fine company with former Game of Thrones co-star Peter Dinklage, Sharpe co-star Brian Cox and North Country's Michelle Monaghan. And, once again, all we know about Sean's character is that he appears to be some sort of soldier.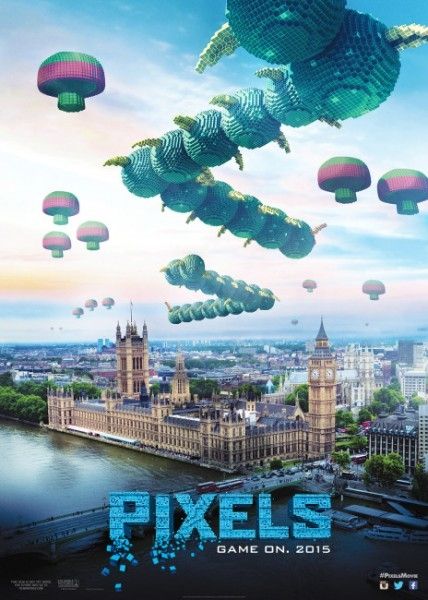 On top of surprise cameo spots on the animated series Family Guy and Robot Chicken, Sean further surprised us by climbing on board several voice projects that hadn't previously been on the radar. He can be heard voicing the "heroic" Arrog in the animated Russian production The Snow Queen: Magic of the Ice Mirror. It's rather uncanny how the burly Arrog actually resembles a beefed up Sean.

Sean's voice also narrates the documentary Ivory Wars, the campaign against the illegal ivory trade and the barbaric decimation of the endangered African Elephant. It is available on demand and via purchased download from Amazon. Use the Amazon Smile portal and Amazon will donate a portion of your purchase to your favorite charity.
What would any documentary about football be without Sean? There was simply no way he could refuse to narrate the fly-on-the-wall documentary about football manager and owner Barry Fry, following him and his team, Peterborough United, through a dramatic season.
Feel like driving a train? Again? Yes, Sean is back for Train Simulator 2015: We Are Rail Fans. And, he's really excited about it!
"Rail fans, unite. The next installment in the beloved franchise, Train Simulator 2015 has left the station and arrived today on Steam for the PC. The launch trailer, which somehow manages to be both more dramatic and better than all three seasons of Hell on Wheels, features a familiar, comforting voice. Sean 'Always Des' Bean narrates the trailer and he's perfect. I like to imagine the disembodied ghost of Ned Stark is the one actually talking to us, as if he is confused and amazed by these powerful iron horses."
Still in production, Sean jumped at the chance to host a major documentary effort commissioned by A+E Networks UK, The Battle Of Waterloo, a two-hour special. The documentary will air on History and investigate the famous battle in honor of its 200th anniversary. Wavelength Films is producing for air in June around the anniversary of the epic battle, in which Napoleon's French Army was defeated in Belgium.
The Battle Of Waterloo will use evidence from historical eyewitness accounts alongside analysis from present-day military experts, including Royal Artillery, 44th Foot and 95th Rifles reenactors, offering a ground-level perspective and insight into the events of 1815. Sean will work with these experts to test the weapons and tactics that shaped the outcome of the conflict and compare them with modern strategies. Filming began in December in the UK and Belgium.
Commissioned by Rachel Job, Director of Programming for HISTORY and H2, Job said Bean was top of the list of talent to front the documentary. "We didn't go after him in a massive way because we thought he's really busy and really famous, and then Wavelength came to us with him and the idea about Waterloo," she said. "It's about picking the subject matter that the talent wants to do, and he's always been interested in Waterloo and the Napoleonic War."
The Battle Of Waterloo Presented By Sean Bean has also been pre-bought by History's sister channels in Germany, Latin America, Italy, Iberia, Australia and New Zealand. Job said although it is a UK commission, these deals will help boost the show's budget. "As soon as I mentioned it to the other channels, they jumped on it. Game Of Thrones is massive around the world," she added.
In between those voice stints, Sean has been keeping his vocal cords tuned up by keeping us supplied with plenty of new O2 adverts. You'll find all the latest offerings, featuring his dulcet tones over in the Multimedia archives.
Completed in 2013, indie film Any Day is still looking for a distribution deal. Producers are still hoping for a general theatrical release as they continue to present it at film markets and film festivals. Lets keep fingers crossed that this little jewel gets a shot at the big screen. Its one of those quiet little character-driven films that Sean loves so much because it allows him to really sink his teeth into the complexities of a damaged human psyche.
Of course, we can't forget Sean's SECOND television series set to begin production in late January. The Frankenstein Chronicles, a period drama, is ITV's first original commission for Sky pay-TV channel Encore ITV. Yes, the same ITV that gave us Richard Sharpe, is putting Sean back into the sort of period costume that he wears sooooo well. Set in Regency London in 1827, The Frankenstein Chronicles has been created by Emmy-nominated director and writer Benjamin Ross and writer Barry Langford.
Billed as a thrilling and terrifying re-imagining of the Frankenstein myth as a six-part period crime drama to be produced by Rainmark Films, the series combines a detective drama with a horror thriller. Sean plays Detective John Marlott, who will be taken on a terrifying journey in pursuit of a chilling and diabolical foe.
Filming will begin in Northern Ireland with funding from Northern Ireland Screen in late January 2015 and further information with regard to casting will be announced in due course. Endemol Worldwide Distribution will be responsible for international sales outside UK/Ireland.
Personally, I'm hoping the show does so well that we will see multiple follow-on 6-part series in the future a la Sherlock, Ripper Street and Whitechapel. All in all, a busy Bean means plenty of Bean screen magic for us to enjoy. I just hope he's taking good care of himself so he can keep us glued to our tellys for a long, long time. Oh, and don't forget to go on over to the Official SBO Calendars page and check out the Bean calendars for 2015!